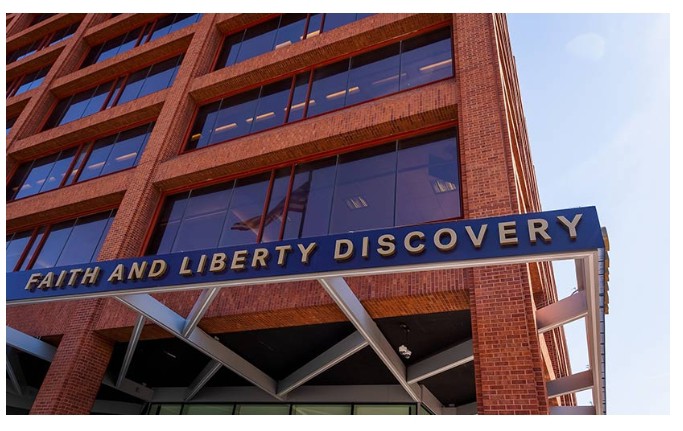 OPENING MAY 1, 2021
IN THE HEART OF PHILADELPHIA
Discover America's past and its relevance to the present in an interactive and immersive experience on Philadelphia's Independence Mall. Six years and $60 million in the making, the Faith and Liberty Discovery Center is the newest high-tech and high-touch attraction in America's founding city. Designed to guide the visitor in a personal exploration of the relationship between faith and liberty in the American experience by illuminating the influence of the Bible on individuals in key historical and personal moments. The center's galleries and exhibits reveal personal stories of how faith guides liberty toward justice.
SNEAK PEEK
This is what the Admissions / Information Desk looks like this month as we continue to progress toward our opening. Come May 2021, our team members will be at this desk ready to welcome you when you arrive. We're looking forward to assisting you in experiencing history in a whole new light in our Discovery Center. You'll want to book your tickets early for this innovative, immersive journey.
For more information and tickets please contact Betsy Del Valle at info@voiceseducationcenter.org