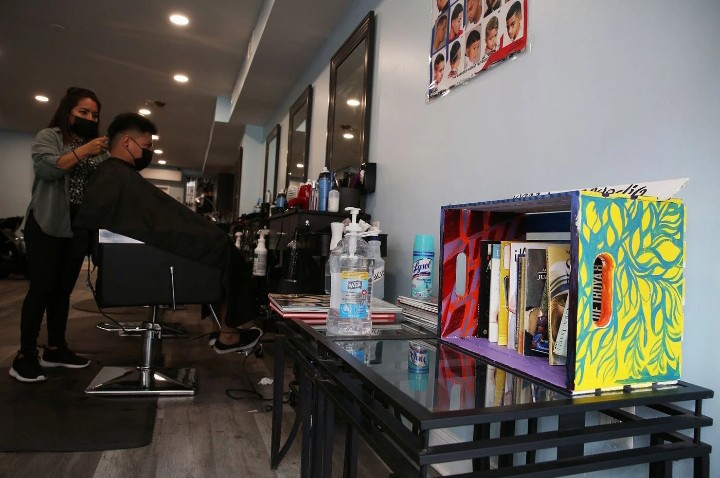 Huacales is the Spanish word for the wood crates used to transport fruits and vegetables to local farmers markets. But, in South Philly, the huacales are now also crafted as pieces of art, and, instead of produce, they are carrying free books in Spanish for community members to take and read.
"Philibros: Libros para Compartir" is an initiative to connect the Latino communities with literature in Spanish, produced by local authors and writers from throughout the Americas. The effort, launched March 31, is organized by Mexican community leaders Edgar Ramírez, Reyna Casarez, Dulce Ramirez, and Carlos José Pérez Sámano.
The group had been planning to promote Spanish reading in Latino Philly for years. But they did not know how to implement the idea until the pandemic quarantine gave them time to plan the project in October.
The program encourages customers and residents to pick up books from the huacalibreros — the wood crate bookshelves — located in Latino-owned local businesses in the Ninth Street Market and around South Philadelphia. People can leaf through the publications while they are eating in their local restaurants or seated at their hair salons. They can take home the ones they like most, and bring them back whenever they are done or pass them over to a friend or family member to keep the reading afloat.
"Our community works for long hours and they do not have time to go to the library to try to find a book in Spanish, even more so now that there are restricted schedules because of the pandemic," said Edgar Ramírez, a community journalist and one of the four cofounders of the project. "If we are going to be the country with most Spanish speakers, then we should have more Spanish readers."
Each huacalibrero is named after a Latino leader or a local organization recognized by community members for their impact in South Philly and the region.
The first huacalibrero was installed at Los Taquitos de Puebla, a restaurant located in the 1200 block of South Ninth Street. It was named after the late José Castillo, a physician and plastic surgeon who helped establish a free clinic in Kennett Square for Mexican migrant workers and was an active member in the Latino communities in the region.
by María Paula Mijares Torres