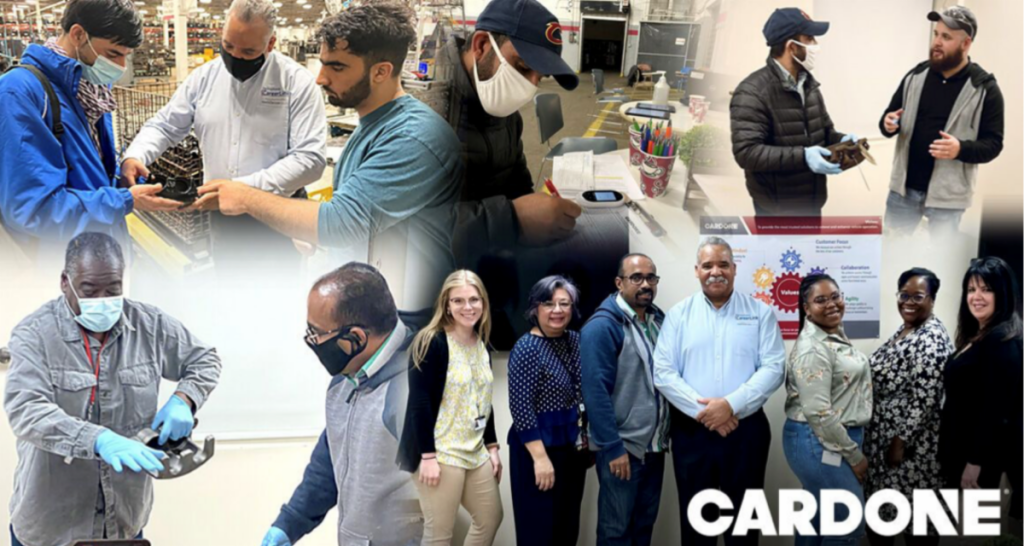 Employer Spotlight:

On May 9, 2022, PA CareerLink® Philadelphia Staff and CARDONE Industries held a Hiring Event for positions in Cardone's Brake Caliper Operations. All candidates hired on will receive full-time, union positions that come with health benefits and a matching 401K program. During this event:17 candidates were interviewed and 11 candidates were HIRED!Two candidates are being considered for other positions due to their experience. Five candidates were referred by the Nationalities Service Center through the Afghanistan Refugee Resettlement Program. This is a life-changing entry-level opportunity for those seeking to start a career in manufacturing. There are more opportunities available, please email Therlowe Paulin at tpaulin@pacareerlinkphl.org for more information!Job Opportunities in PhiladelphiaEmployment Trainer, JO# 16933910Employment/Job Coach, JO# 16933891Business Development Specialist, JO# 16902694Assessment Trainer, JO# 16560245 upcoming workshops in May & June! View Workshop Calendar



Download the Youth Navigator Flyer (English)Descargue el folleto del navegador juvenil (español)PA CareerLink® Youth NavigatorYouth & Young Adult Services at PA CareerLink® PhiladelphiaCareer coachingPaid internships and apprenticeshipsJob training (healthcare, tech, construction, and more)Job search assistanceEducation services (GED, college, workshops)Extra support like a FREE Transpass or clothes for workYouth or young adults ages 12-24Call 1 (833) 750-5627 orEmail: info@pacareerlinkphl.orgUpskill & Training OpportunitiesConnect to the PHL Career Portal for quality online training and resources where you can:Enhance your job searchExplore career opportunitiesDevelop your professional skillsPrepare and compete for the job you want!Register Today!Philadelphia residents may qualify for free or low-cost vocational skills training to advance their careers across various industries including healthcare, technology, construction, and more.I.T. TrainingIT User Support – JobWorksIT User Support – NuPathsIT Security Analyst – NuPathsAnd other specialized I.T. programs! Health Care TrainingCertified Nursing Aide – CareBridge AcademyEmergency Medical Technician (EMT) – CongresoAnd other specialized healthcare programs!Other Specialized TrainingWINC Tradeswomen Readiness Program – FTIHeating, Ventilation, and Air Conditioning – Orleans Technical CollegeConstruction, home repair, electricity, welding, and other specialized programs! Apply for Training Opportunities

PA

CareerLink® Partner ResourcesFree Library of PhiladelphiaCheck out the new Career Training DatabaseThe Career Training Database introduces job seekers to new career pathways. Job Seekers can connect with over 200 Philadelphia training programs in key industries:Health CareInformation

Technology Construction Manufacturing Business
Food/HospitalityTransportationEducation and ArtsTraining programs require at most a high school diploma, GED, or its equivalent. You're one search away from your future.Access Database

PA CareerLink® is Back at the Free Library! PA CareerLink® has partnered with the Free Library since 2019 to provide in-person job seeker services at neighborhood libraries around Philadelphia. Although the pandemic disrupted those services, we are pleased to announce that PA CareerLink® community support is back at a library near you!Community Workforce Connectors can provide individualized support with:Welcome to PA CareerLink® OrientationSupport with PA CareerLink® RegistrationOne-on-One Resume Development and SupportCareer CounselingRelevant Skill and Professional Development Workshops Check out the Job Seekers Calendar of Events to find out the next time a Community Workforce Connector will be at your neighborhood branch! The Wardrobe

Anyone receiving TANF can ask their case manager for a referral to The Wardrobe for FREE CLOTHES! Thanks to the PA WORKWEAR program. The Wardrobe can help anyone on TANF get ready for a job interview, new job, or training program at no cost– in person or online.More information can be found on the website: careerwardrobe.org and you can email program@wardrobepa.org with any questions. Get to where you need to be! Your Next Step provides access to educational resources, career and training opportunities, and other services in pursuit of your personal success. Download the Your Next Step Resource Guide Here ‌  ‌  ‌  ‌

www.pacareerlinkphl.org

PA CareerLink® Philadelphia is an Equal Opportunity Program. Auxiliary aids and services are available on request to individuals with disabilities.