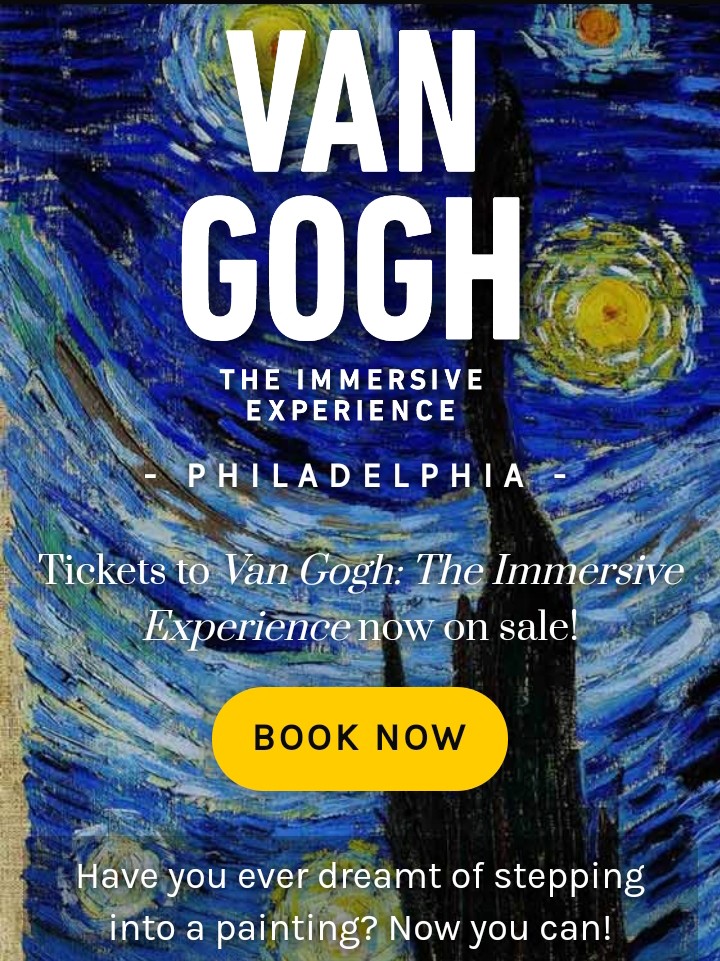 Not to be MISSED!
Exquisite Storytelling, Cutting-Edge Technology
Van Gogh: The Immersive Experience is a 20,000 square foot light and sound spectacular featuring two-story projections of the artist's most compelling works. Encounter the brilliance of one of history's greatest artists in 360 degrees.
COVID-safe, Family-friendly
Van Gogh: The Immersive Experience is all digital, hands free, and perfect for our socially distant world. Its rich content is suitable for a wide audience, including families, school groups, couples, and seniors. In addition to a spacious central area where Van Gogh's works stretch floor-to-ceiling, the experience includes separate galleries that chronicle his life, technique, and influence thru informative panels, larger than life re-creations and engaging interactives.
Total Artistic Immersion
Van Gogh: The Immersive Experience features a one of kind Virtual Reality interactive, which guides you on a ten-minute journey through "A day in the life of the Artist." Walk alongside Van Gogh during this peaceful, visually rich journey to discover the inspiration behind eight of his iconic works, including: Vincent's Bedroom at Arles, and Starry Night Over The Rhone River.
A Perfect Outing for All Ages
Van Gogh: The Immersive Experience welcomes guests of all ages. This rare and cutting-edge experience is the perfect discovery for couples as well as larger groups, for individuals and for the whole family. There is even a surprise at the end for young artists!
Tip: Plan for your immersive experience to last 60 to 75 minutes.
 Date: From August, 2021
 Opening hours: (time slots available every half hour)

Weekdays: 10am–8pm
Weekends & holidays: 9am–9pm

 Duration: The visit will take around 60 to 75 minutes
 Location: A secret location in Philadelphia (to be announced soon)
 Age requirement: 

All ages

!
For more information and tickets contact Betsy Del Valle at: info@voiceseducationcenter.org
Hope you can attend this immersive experience!